Online board games – how to deal with a situation when we have no one to play with?
The Internet rushes to the rescue! When it comes to the possibility of playing board games online, we have the following options to choose from:
use of applications dedicated to mobile phones
playing through web portals
1. Applications dedicated to mobile devices
Well-known and popular board games, transferred to the digital world in the form of an application, allowing you to play online:
Civilization
Excellent strategy game, high entry threshold and high degree of complexity. It is possible to injure both on cells and on pc. Details on the publisher's website. In addition, the game in the free version – although it is available on board Games Arena.
Smallworld 2
The latest version of the popular board game is now available for mobile devices. It works great, and its price does not deter.
Spirit Island
A fresh thing, a digital version of a complex, highly rated board game. Recently available on the Steam platform.
2. Board games online
There are several places on the web where you can play board games online. They can be divided basically into board games moved in a classic way, with a view from above, in two dimensions. The most popular and largest portal for playing in this way is Board Game Arena. Recently, solutions that present board games in a three-dimensional perspective have been gaining popularity – and here we should mention Tabletop Simulator and Tabletopia. Full list below:
Number of games – 175
Most games free!
The vast majority of games are available to play for free, after passing registration. In addition, the games are scripted, facilitating and automating various processes occurring during the game. This allows you to relieve the mind from the calculations of 🙂
We have the ability to play in real mode and in turn-based mode (turn-based mode includes additional types of gameplay, regulating the duration of moves). Each of the games is presented in a classic two-dimensional way, containing scanned images of boards, cards, etc.
This platform has adopted a subscription model, but access to the latest (or, according to BGA, the best) games is limited – only the owner of a premium (paid) account can set up the game, while joining existing games does not require paying fees. A very popular platform.
Number of games – more than 100
All games free!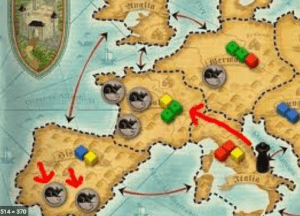 After registration, we have the opportunity to use all the games collected on the site. Graphically, it looks good, although Board Game Arena is a bit lacking, especially when it comes to animations. In any case, a lot of solid titles, especially I recommend Machi Koro (in the international version the game known as metropolis)!
Number of games – over 800
Part of the games free, most paid
Tabletopia is a collection of games transferred into a three-dimensional environment. In general, the most popular titles require you to pay a fee in the form of a subscription, with few exceptions. It may happen that the games available in the version for one or two people are free, while for a larger number of players they are paid.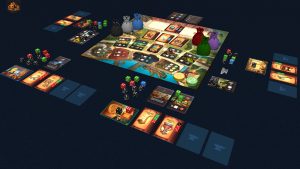 Basically, the games present on Tabletopia are the official version, approved by the developers / publishers. They are also scripted, i.e. they automatically perform certain operations and activities performed within the mechanics of specific titles.
Without prior knowledge of the rules of the games, it is quite difficult to start the game, but you can always count on a community of players who offer the game along with learning the rules.
Available on Steam.The largest number of board games transferred to the 3d environment, also created by the community.
Tabletop Simulator can be described as a direct competitor of the aforementioned Tabletopia, as both platforms offer board games in a three-dimensional environment. To use Tabletop Simulator, you need to download the application from Steam. It is obligatory to use paid software. In addition, it is important that games and versions of existing in reality games are added by the gaming community. This leads to a situation in which there are plenty of available versions of a given game – fortunately, the rating system allows you to filter proven versions. If we dig deeper into the gaming community, we will find out that the main forum of the community is the Discord application, which at the same time serves as a communicator during the games. On discord channels you can find forums where games are available that are not officially available for Tabletop Simulator! It's mostly about the latest or rare titles.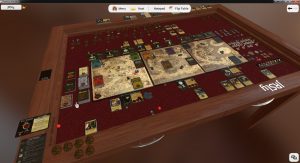 Tabletop Simulator is a "sandbox" platform, i.e. there is full freedom of action in virtual reality. You can even turn over the table, scatter all the pieces, etc. The "sandbox" formula and incomplete scripting of games requires players to know all the rules governing the course of a given game. However, a thriving and player-friendly community is a great advantage of this platform. In the light of the above facts, paying a one-time, initial fee for using Tabletop Simulator seems to be a small cost, the more so because you can often find promotions typical of Steam, i.e. -50%.
Number of games – more than 50
All games free!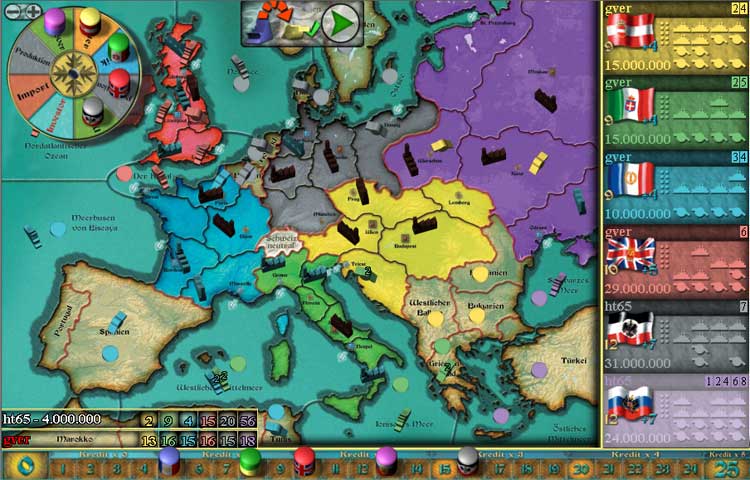 . All games free!
Number of games – more than 60
All games free!
Number of games – more than 10
All games free!

It's also worth checking what games you can play on Skype, Zoom and other messengers.